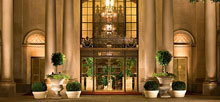 Millennium Biltmore Hotel
Los Angeles
Downtown Los Angeles, California

SYMPOSIUM INFORMATION

>General Information
>Faculty
>Program/Schedule
>Accreditation/CME Surveys
>Registration
>Hotel Reservations
Supported by:
GOOD SAMARITAN HOSPITAL
Los Angeles, CA

Officially Endorsed by:
THE HEART FAILURE SOCIETY OF AMERICA

Affiliated With:
INTERNATIONAL ACADEMY OF CARDIOLOGY




Related Conferences:

22nd Annual
Heart Failure 2018
Update on Diagnosis and Therapy
April 21, 2018

LOCATION and ACCOMMODATIONS
Millennium Biltmore Hotel
506 S. Grand Avenue
Los Angeles, California 90071
Reservations: 800-245-8673
Phone: 213-624-1011
>www.millenniumhotels.com


The Millennium Biltmore Hotel has been the premier choice for celebrities, presidents and dignitaries for nearly 90 years. Few Los Angeles hotels boast the ideal locale and sumptuous comforts this luxury hotel has to offer. Situated at the heart of L.A's vibrant cultural district, the hotel is just steps away from major attractions, such as L.A. Live, the Ahmanson Theatre, Walt Disney Concert Hall and Dodger Stadium.

Special Group Rate Available:
A limited number of guest rooms are available for a rate of $229 Single/Double, plus tax and parking. Reservations must be guaranteed by a major credit card. Cancellations without penalty must be made 36 hours prior to your arrival. Call the hotel directly to book your room and specify that you plan to attend the 22nd Annual Heart Failure 2018 Symposium so that you can receive our special rate.

Reservation Deadline: March 23, 2018. If your reservation is not received prior to cut-off date, reservations will only be accepted subject to availability. Please specify that you plan to attend the 22nd Annual Heart Failure 2018 Symposium so you can receive our special course rate.
SPECIAL ACCOMMODATION RATE FOR THE COURSE VALID ONLY UNTIL:
March 23, 2018
Guests can call reservation direct for booking at:
213.612.1575
(mention code: 1804HFAILU / Heart Failure 2018) - including suites.

Please call during office hours (8am to 6pm) weekdays. Call center after hours does not have access to the exclusive group rates

RATES
$229 - Deluxe Single/Double

plus 15.55% tax

First night's deposit or credit card guarantee must accompany reservation.
PARKING
Valet parking at the Biltmore for overnight guests is $45. Valet parking is $24 for the day. Self parking is available on Saturday at the Pershing Square Lot for $10, overnight parking is $17 (24hrs). Prices subject to change.